No camera wolfing
Posted: 2016-03-22 21:47:35 UTC
by Dan McKeown
Llandover Woods Greenspace is not something you would notice just driving through. Right at the northwest edge of the city, where urban grid neighborhoods along the water give way to golf courses and swirly suburban enclaves, you'd have to turn left where the signs direct one to bear right where going straight there as you head north on 3rd Avenue West would simply put you on the long drive to the guardhouse to one of those country clubs. If you do turn left there, into the small parking lot, and walk out to the trail head, you find yourself in a hilly forest tucked in between neighborhoods.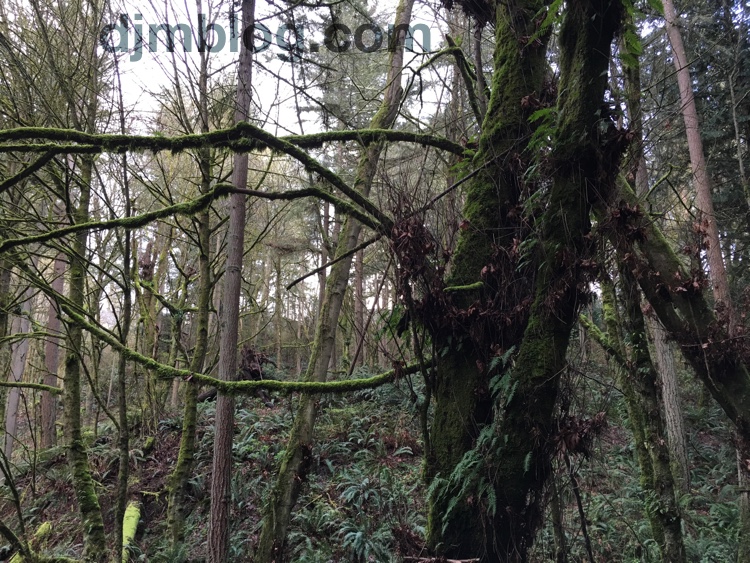 That's where Jessica and I went on one of our photographic journeys around Seattle and you can see from the photo the results of what is said to be the rainiest winter in a very long time around here--the moss on the trees is a normal part of spring out in western Washington but the level of coverage and the variety of green colors this early in the season is pretty stunning to me--then again I spent many years living in the Midwest so the milder late winters here are quite enjoyable and still surprising. North Seattle's anchor shape means that when in the northern parts of north Seattle, it's not too far to get across from one neighborhood to another, and Aurora Avenue is never that far away.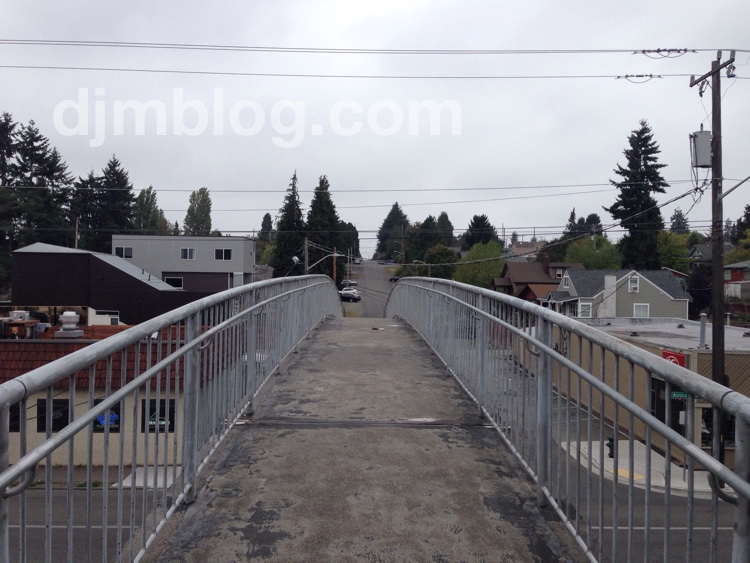 The pedestrian foot bridge is roughly parallel to where I live so I find myself using it to cross once in a while when I am heading west. I like the ability to look around the squat neighborhood, though I find walking on the old structure over the flowing traffic a bit disquieting. A road with haphazard auto lots and old road motels in varying stages of disrepair and disrepute and prowled by some of the city's most marginal characters, it also hosts plenty of bars, restaurants and stores. (And not just liquor stores.) A road that is visible from the trendy shores of Green Lake and up to the fancy mall country of Lynnwood, Aurora would be a rich photographic target--but it's very likely that many of the people on it would resort to camera wolfing if photographed. I discussed camera wolfing on my podcast a couple months ago--it's the act of attacking a photographer for using their camera in a place they have every right to use it. For some reason there are people who think that they are entitled to act violently in order to avoid being photographed or videotaped, even in public places. When someone does that, whether they are a public figure, a tourist on the street, or a police officer, they are camera wolfing. Posting this sign or something like it can help send a message about camera wolfing in your area.